Each disposable TREET CBD pen contains 100mg* of pure organic CBD isolate and natural flavour extracts. Pre-filled and fully charged; simply choose a flavour below, inhale and experience nature. Treet yourself.
CBD Acai Bowl – 100mg* Disposable Vape Pen

£

10.99

CBD Citrus Blast – 100mg* Disposable Vape Pen

£

10.99

CBD Grape – 100mg* Disposable Vape Pen

£

10.99

CBD Mint – 100mg* Disposable Vape Pen

£

10.99

CBD Mixed Berry – 100mg* Disposable Vape Pen

£

10.99

Sale!

CBD Pen Bundle – All 5 Flavours (Save 15%)

TREET CBD Pen Bundle – All original Flavours (Save 15%)

£

27.99
Sweet juicy flavour with sour undertones. An eclectic mix of popular berry extracts that are bound to leave you wanting more.
Cooling Fresh mint extracts and calming CBD isolate. Giving you a cool inhale and an excitingly icy tingle.
This deliciously fruity mix is reminiscent of the super-healthy breakfast meal. Flavoured with extracts of Acai, Blueberry and Pomegranate.
The CBD Pen
Premium Quality
The CBD Isolate used in our pens is strictly tested by third party labratories, verifying the superiority of TREET.
Each of our 30mg CBD vape pens lasts for up to 150 puffs, giving you around 1 week of use.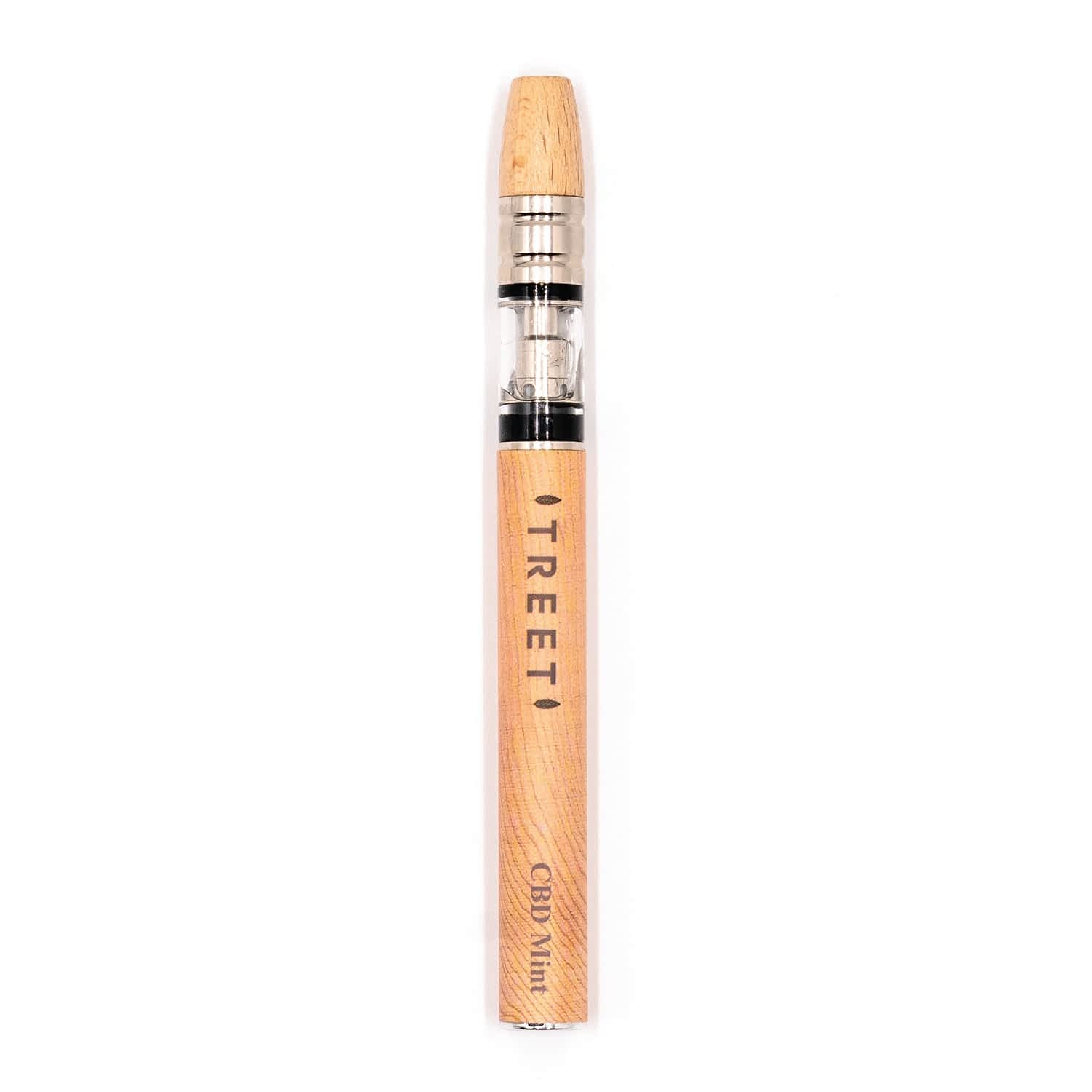 Each pen comes fully charged and filled. Simply, purchase, use and throw each pen out when its empty.
CBD is non-psychoactive because it does not act on the same receptors as THC. Furthermore, as we use CBD isolate our pens contain 0% THC.
Recommended Use for TREET CBD Pens
UK's Best CBD Vape Pens
TREET yourself with the life-changing magic to your fingertips!
TREET offers disposable CBD pens that are perfect for curious users who want to try out CBD vapes or experienced ones looking for a stylish upgrade. Our CBD oil vape pens are easy to use, look stylish, and serve as a great travel companion.
Each vaporizer pen contains 30mg quantity of pure CBD isolate, blended with natural flavour extracts. Choose any flavour below, inhale, and then throw away once it is finished.
Why should you buy disposable CBD vape pens?
Disposable vape pens suit your hectic lifestyles. Refilling a vaporizer daily can be time-consuming and frustrating. With a disposable pen, you can get your CBD instantly. And, you can put these compact pens in your jacket pocket or handbag without it being a nuisance.
When you buy reusable CBD vape pens, you lose some amount of your precious CBD while refilling the pen. And, when it comes to pre-filled cartridges, there are concerns about mechanical issues, like heat element failure.
With these pens, you enjoy all benefits of vaping vegan and non-GMO CBD without worrying about messy cartridges refills or the confusing technology.
They last until you inhale the last puff of delicious CBD. Once done, you can get rid of the pen without worrying about failing hardware or complicated refills.
No need to worry about the battery! Our CBD vape pens feature a battery that lasts until there are no more CBD oils left within your pen. So, you don't have to move around to charge your pen or worry about the losing capacity of rechargeable batteries.
All in all, our CBD pens put you at ease and let you enjoy CBD vaping, without worrying about any single thing.
Why TREET to buy the best disposable CBD oil vape Pens for sale in the UK?
At TREET, we are committed to developing the best CBD oil vape Pens for sale without compromise on quality, flavours, ingredients, and safety. We achieve all these things by sourcing high-quality and organic vape ingredients.
All ingredients we use and our vape pens undergo rigorous lab testing for their effectiveness to ensure a THC-free natural CBD vape product delivered to you.
We work closely with trusted and reputed industry partners. We strictly follow FDA guidelines that help us maintain the highest possible quality and safety standards associated with CBD oil vape pens in the UK.
We constantly seek product ideas and feedback from our customers and use these feedbacks to improve our products. We are 100% transparent about ingredients that go in disposable CBD pens. What's more, we also make the results of our lab tests available on our website for download. So, you can rest assured of buying our evidence-backed products.
Made in the U.K.
The way CBD you get is sourced matters a lot. TREET's cutting-edge supercritical CO2 extraction methods ensure purity and safety. We do not use solvent-based extraction methods that can leave products with nasty and harmful substances. What you get is pure CBD isolate.
Cruelty-free products
We focus on ethical, sustainable, and cruelty-free CBD pens that are never tested on animals. These are vegan, organic, and safe products.
Third-party lab tested
There are many companies that claim the purity and potency of their CBD products. But, many of these claims are not backed by evidence. TREET offers CBD oil vape pens that are tested by independent third-part labs.
Our Disposable CBD Pens
Choose from our pre-filled and fully charged CBD pens containing different delicious flavours:
CBD Mint 30mg Disposable Vape Pen
TREET Fresh Mint disposable CBD Vape pen is a cool burst of herbal and crisp mint freshness. The pen delivers 30mg of CBD isolate with the convenience for your active, on-the-go lifestyles.
This CBD mint vape pen is literally the size of a pen. It is focused on ease of use, simplicity, and discretion. This sleek and stylish vape makes a perfect travel compenion for CBD aficionados who travel quite frequently.
This disposable, breath activated product is meticulously formulated with organically-grown CBD isolate. In addition, it also contains a proprietary blend of vegetable glycerin, propylene glycol, natural flavours.
With 30mg of organic CBD, this disposable CBD pen delivers a potent CBD dose. It is made from superior components and does not need battery charging. We use Ceramic core technology for this pen that evenly distributes heat to the CBD E-liquid.
With zero THC and no artificial flavouring, our CBD Mint disposable pen is ready to go right out of the package.
Why vape CBD Mint?
Studies have shown that CBD mint has more targeted therapeutic effects than plain CBD. It shows effects within 5-20 minutes and easily gets absorbed in the bloodstream.
More importantly, CBD mints bypass other forms of CBD products like pills and tinctures, while giving you a great, refreshing taste. Mint is a carefully-selected herb that makes up a breath mint when combined with cannabis extracts high in CBD. Our disposable CBD mint pens have a much lower dosage compared to average liquid or CBD capsules.
Whether you are beginning with CBD micro-dosing or are a seasoned user, CBD mints make a great option. You can use them to supplement your existing regimen. If you are the one who respond well to lower doses of CBD, then these CBD pens provide a convenient and discrete way to dose the therapeutic substance in public.
CBD Acai Bowl 30mg Disposable Vape Pen
Don't have enough time to blend a perfect Acai bowl? Do you want to enjoy your healthy acai bowl on the go conveniently? Try our TREET CBD Acai Bowl disposable vape pen.
Prepared from puréed acai berries, acai bowl is served as a smoothie topped with nuts, fruits, granola, and seeds. This antioxidant-rich superfood gives a punch fulfils your nutritional needs for the whole day. We combine the power of acai bowl with therapeutic effects of CBD.
Get TREET CBD Acai Bowl vape pen to taste nutty acai, rich blueberry, creamy and tart pomegranate all at once. Infused with CBD, our acai bowl disposable vape pen provides a healthy on-the-go breakfast treat. With a tantalizing taste, the pen delivers all therapeutic benefits of organic CBD in this disposable 30mg CBD vape pen.
Why vape CBD Acai Bowl?
The pen can help with conditions like soothing pain, easing anxiety, recovering from an intense workout session, and reducing inflammation.
As we have already mentioned, an acai bowl makes a nutritious breakfast meal. Combining its benefits with those of CBD is a great way to start off your day. CBD possesses anti-anxiety and anti-inflammatory properties that make it helpful in reducing stress.
CBD oil provides a sense of relaxation and calmness throughout the body. It can be helpful for those with high stress levels in their lives. In addition, CBD possesses anti-inflammatory properties that can also help to reduce the stress that our gut suffers form during emotional stress or illnesses.
So, combining the benefits of acai bowl and CBD, our CBD Acai Bowl 30mg disposable vape pen makes a must-have for CBD aficionados.
CBD Mixed Berry 30mg Disposable Vape Pen
Always carry along with you the rich taste and healthy nutrition of berries. Our CBD mixed berry disposable vape pen is a fuss-free way to enjoy berries on the go.
TREET CBD mixed berry CBD vape pen combined pure CBD isolate with a mixed blend of freshest boysenberries, raspberries, blueberries, and more. Thus, you get a true burst of berry flavour and therapeutic benefits of CBD.
We use only high-graded, fresh and responsibly-sourced ingredients, which stand true to our passion for both quality and purity.
Why vape CBD Mixed Berry pen?
CBD blended with mixed berries taste sweet, fruity, and peppery while offering unmatched health benefits. This remedial product can be ideal for providing relief in a variety of medical conditions like depression, stress, anxiety, inflammation, and lack of appetite.
The pen is made with 30mg CBD isolate extracted from industrial hemp using the supercritical CO2 extraction process. Thus, you get pure CBD extract without toxins, residues, or metals. In addition, the pen contains vegetable glycerin, propylene glycol, natural flavours.
Our CBD mixed berry disposable vape pen is great for sleep, pain relief, anxiety treatment, and a lot of therapeutic benefits.
So, this compact and portable TREET vape pen has been developed for CBD users who prioritize value and efficiency. Get this for an instant and powerful hit of CBD and healthy berries.
CBD Pen Bundle – All Original Flavours
Do you want to keep handy all three – CBD mint, CBD acai bowl, and CBD mixed berries? Or maybe, you cannot decide on which CBD vape pen is the best for you.
Maybe, you want to stock up all three available flavours or give the bundle as a gift of wellness to someone.
If so, then get this TREET CBD Pen Bundle. Enjoy the best and superior flavours TREET has to offer in this CBD pen bundle of all original flavours, and save you 15% on all three pens on the store.
Our CBD Pen Bundle is the right way to taste and benefit from all delicious and effective flavours. So, but this bundle to never run out of your favorite flavors.