CBD Vape Cartridges & Pods
Enjoy your daily dose of Cannabidiol in a flavorful and relaxing manner with our CBD vape cartridges. Each Cartridge is compatible with our CBD Vape Kit and contains pure CBD isolate from organically grown Hemp.
TREET brings everything that you need to enjoy CBD vaping in the UK.
TREET 100mg CBD Vape Cartridge – Acai Bowl

£

9.99

TREET 100mg CBD Vape Cartridge – Fresh Mint

£

9.99

TREET 100mg CBD Vape Cartridge – Mixed Berry

£

9.99

TREET Refillable Vape Cartridge (2 Pack)

£

9.99
Acai Bowl CBD Cartridge
Our CBD infused Acai, Blueberry, and Pomegranate flavour, reminiscent of the healthy breakfast treat.
TREET CBD VAPE CARTRIDGES
Treet yourself
All E-liquid used in our CBD Cartridges are lab-tested to ensure the highest quality possible.
All TREET CBD Liquids use botanicals that are ethically and sustainably sourced from high-quality suppliers.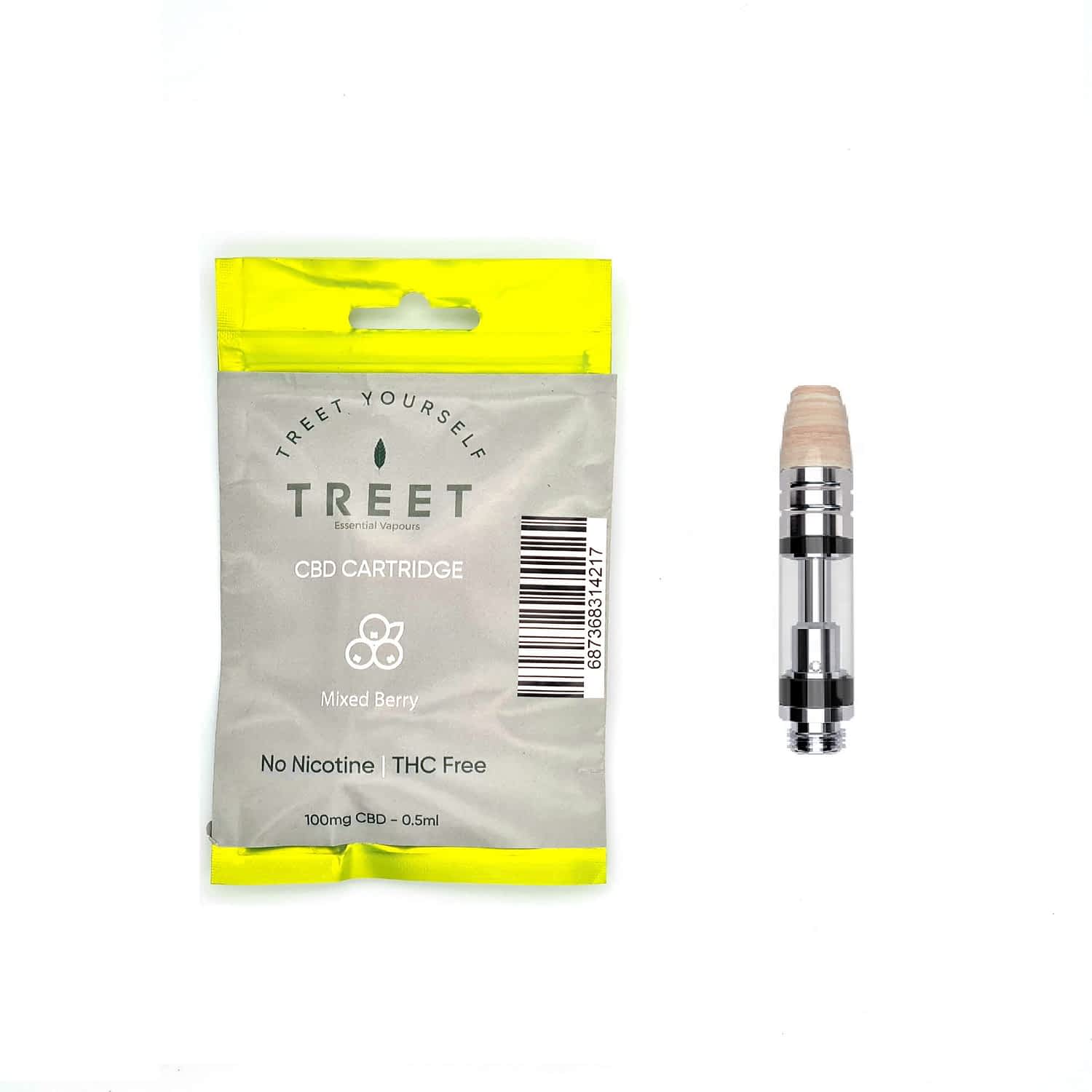 All TREET CBD E-liquids contain 100% all-natural flavorings.  No THC, Vitamin E or Alcohol
Every TREET CBD Cartrdige contains Broad Spectrum (0% THC) CBD-Extract from Organically grown Hemp plants.
Our customers say we are "
Excellent"

What are CBD Vape Cartridges?
A typical CBD vape cartridge consists of a CBD liquid chamber, heating element and mouthpiece.  All those who want to enjoy a great CBD vaping experience, nothing beats using a CBD vape cartridge. They come in different shapes, sizes and types of vaping devices.
At TREET, we offer vape cartridges and pods separately in multiple flavours and potencies. The
How to use a CBD Vape Cartridge?
Step 1: Connect a 510 battery to your CBD vape cartridge.
Step 2: Press the "power" button 5 times for activation
Step 3: Press the button every time you inhale
Take frequent breaks to enjoy every puff inside and out. If you feel uncomfortable or not satisfied with the experience, discontinue using the vaping device.
What are CBD Replacement Pods
CBD replacement pods are small containers which are used to store CBD e-liquids.
These can be snapped or screwed in your pod mod batteries to replace the previously used pods.
TREET offers you single-use pods as well as refillable replacement pods.
What are CBD Disposable Vape Cartridges
CBD disposable vape cartridges are glass cartridges pre-filled with a combination of cannabinoids and terpenes from cannabis.
The disposable cartridges are the best choice since they offer zero product wastage. These vape cartridges can be availed in different potencies and flavours depending upon your requirements and brand choices.
TREET provides you with five brand choices.
How CBD vape cartridges and pods are different from each other
CBD cartridges and pods are popular among CBD vapers.  One can enjoy great variety in CBD oils and tinctures when it comes to pods, unlike CBD cartridges which are known for their convenient use. Typically, CBD vape cartridges are pre-filled that limit its usage to as long as the liquid lasts. Whereas pods can be refilled and reused several times and thus saves your time and money.
Properties of CBD vaping cartridges
Slim and compact design
Battery-operated with varying wattages
Compatible with 510 thread vape pens
Automatic & manual activation
Pre-filled CBD liquid cylinders
Encloses a cotton wick or ceramic coils
Portable
For all those looking for excellent vaping experience, shop for CBD vape cartridges in the UK from TREET.  We have amazing options for beginners and ardent vapers.
Recommended Use for TREET CBD Vape Kits
Dosage
Everyone's CBD journey is different and as we all differ in body and mind, and hence there is no optimal dosing for CBD that will work for everyone. Generally, a great place to start is low with a few inhales every few hours and then slowly move your way up from there, gradually increasing dosage if needed, to achieve the desired effect.